Nearly everyone who spoke before the City Planning Commission this week about the proposal to convert the century-old New Orleans Police station at 2552 St. Philip Street into a bed-and-breakfast was in favor of it — including the neighbors, the commissioners and even the city staffers who said it was impossible.
Only the language of the city's land use bureaucracy stood in the way, an obstacle that proved insurmountable Oct. 28. After the City Planning Commission voted to postpone a decision on the project, District D City Councilman Jared Brossett said he is preparing to amend city law to make it possible.
Please click here for the rest of the Mid-City Messenger's story.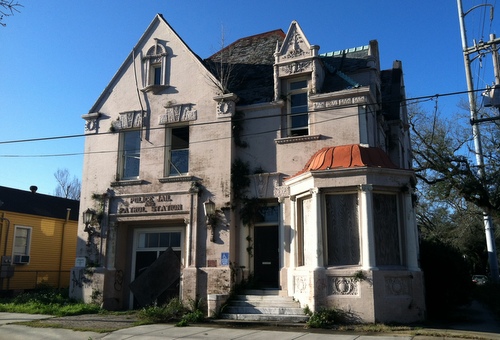 A "Police Jail and Patrol Station" built in the turn of the 20th century in the Esplanade Ridge neighborhood was auctioned off for $175,000 Friday(December 13, 2013), according to city officials.
The 6,291-square foot Queen Anne and French Renaissance Revival-style building, located at 2552 St. Philip Street, was given a market value of $175,000 in September 2012. It is "in very poor condition," with "substantial flooding and roof damage," according to an appraisal done by Stegall, Benson and Associates, LLC for the city of New Orleans.
According to Tyler Gamble, the city's press secretary, Liz and Raul Canache purchased the property.
December 16, 2013
http://midcitymessenger.com/2013/12/16/st-philip-street-police-station-from-1902-auctioned-for-175000/
*************************************************************************************************
by Charlie London
Property Disposition 12/12: Consideration of the sale of 2552 Saint Philip Street, Lots 99 and 100, Square 322, in the Second Municipal District, bounded by Saint Philip, Dumaine, North Rocheblave and North Dorgenois Streets. (ZBM C-13, PD-4)
You may remember that I have been passionate about the restoration of 2552 St. Philip for many years now. I happened upon the property while surveying the area after moving to Faubourg St. John after my previous house was destroyed by the Federal Flood. I literally gasped when I first saw the property. It is a stunning architectural gem of serious historical significance.
I am happy to announce today that dream of getting the property restored may indeed become a reality… with your help. You see, the city wants to auction 2552 St. Philip off to the highest bidder. I hear you saying, "so what, I can't afford that!" Maybe not, but you may know someone who can. Let's work together to find someone who will provide the care and restoration this property so desperately needs.
There are many people who helped bring this city property up for auction. Michelle Kimball of the Preservation Resource Center has been a stalwart fan of 2552 St. Philip and deserves much of the credit for keeping the pressure on the city to do something with it. The Louisiana Landmarks Society was also instrumental in bringing attention to 2552 St. Philip when it listed it as one of its "New Orleans 9 Most Endangered Properties".
Former Councilperson Shelley Midura and present Councilperson Susan Guidry both of New Orleans Council District A and their staffs were also extremely helpful.
2552 St Philip Street was included in a presentation given to the Council Housing and Human Services Committee yesterday. It is among the City's first list of surplus properties to be auctioned.
2552 St. Philip is just one of the historic city-owned properties being demolished by neglect…
Restoring City-owned historic properties would create anchors of positive development throughout New Orleans and give a big boost to our restoration efforts. My previous blog posts about 2552 St. Philip are in the links below:
PHOTO and DESCRIPTION of 2552 St. Philip
http://katrinafilm.wordpress.com/2009/04/28/2552-st-philip-street/
DONATION OF CITY PROPERTY
http://katrinafilm.wordpress.com/2009/05/29/donation-of-city-property/
CITY DEMOLISHES PROPERTY BY NEGLECT
http://katrinafilm.wordpress.com/2009/05/28/581/
PHOTO and DESCRIPTION of 2552 St. Philip
http://katrinafilm.wordpress.com/2009/04/28/2552-st-philip-street/