Click on the sample ballot for a larger view.
 Governor
Click on the sample ballot for a larger view.
You have the right to vote in a Louisiana election if you are qualified to vote in the current election, qualified to vote in the specific precinct and you are the person whose name is in the precinct register.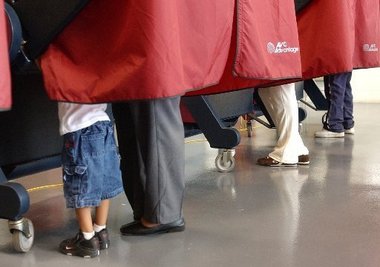 The polls open at 7 a.m. for Saturday elections and close at 8 p.m. The polls open at 6 a.m. for Tuesday elections and close at 8 p.m. Voters in line at 8 p.m. will be allowed to vote.
You may vote early 14 days to seven days prior to any scheduled election, on Election Day or absentee by mail.
Know which precinct you are registered to vote in, and its location if you are voting on Election Day. Be prepared to provide photo identification to vote early or on Election Day. You can obtain a free Louisiana special identification card by presenting your voter registration information card to the Office of Motor Vehicles. Do not bring or wear any campaign paraphernalia to the polls or to vote early.
There is an app for iPhone and Android devices. Download the free GeauxVote app. Information available on mobile devices includes voter registration information, voter districts information and information about upcoming elections such as voting dates and times, voting locations and sample ballots.
Notify your parish registrar of voters of any changes to your registration. Failure to update your residential address may result in an inactive registration status. Inactive voters must verify their residential addresses prior to voting, which may be done on Election Day at the precinct, in person at the registrar's office, online or by mail through a voter registration application.
To qualify to vote you must:
be a U.S. citizen;
be at least 17 years of age, but must be 18 years of age by the next election to vote;
not be under an order of imprisonment for conviction of a felony;
not be under a judgment of full interdiction for mental incompetence or partial interdiction with suspension of voting rights; and
reside in the state and parish in which you seek to register.
Vote by Mail
In Louisiana, you must have a reason to be eligible to vote by mail, unless you are a military or overseas voter. Senior citizens and persons with disabilities may apply for an automatic mail ballot.
Vote Early
All registered voters may vote early at the registrar of voters office or at an alternate site designated for early voting. You do not need a reason to vote early.
The early voting period is from 14 days to seven days before each election, from 8:30 a.m. to 6 p.m. (except Sundays and legal holidays).
Vote on Election Day
You may cast your ballot on Election Day by:
voting on a machine;

emergency paper ballot if the only voting machine in the precinct fails; or
provisional paper ballot (federal election only) if you certify that you are eligible to vote in the election and your name does not appear on the precinct register.
https://voterportal.sos.la.gov/SampleBallot